By: Daniel Hagan - Managing Editor
During the winter Florida Shores are invaded by a northern fish migrating south for the warmer waters, the Bluefish.  These fish can reach over 30 pounds, but here in Florida they average around 14″, but they can be found in schools of hundreds.  They have a mouth full of sharp teeth and fight rather hard for their size.  But are they a welcome visitor or a trash fish that can not be avoided?  The answer all depends on the individual angler, here is some information about them to help decide: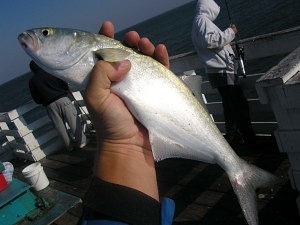 Availability: Abundant and easy to find
Bluefish are found in great numbers in North Florida spring-fall and fall-spring in South Florida.  They are found in the surf, bays, estuaries and the Inter-coastal Water Way in good numbers.
Size: Small – Medium
Bluefish CAN grow to over 30lbs, but it is rare to catch one over 3lbs in Florida.  Every now and then a school of large fish will make its way down to Florida, but the run in unpredictable at best.  The average size here is about 14″, with many smaller fish around.
Food Value: Subjective
Some anglers find the flavor of a bluefish to be quite objectionable while others enjoy the flavor.  All that eat them agree that they must be bled when caught, well iced and eaten fresh.  Most bluefish are either fried or broiled the same day they are caught.
Game Value: Good
A strong fighter that is quite fast, uses its forked tail to its advantage, and will readily accept artificial or natural baits.  At times, anything flashy that moves fast will be taken by bluefish.  They are so aggressive, that they can be considered a nuisance to fishermen targeting other fish.
Editorial Opinion: Fun when nothing else is around.
The author of this piece enjoys catching bluefish on days where other sport fish are not cooperating.  They are almost always willing to put on a fight, even when conditions are poor.  Their poor reputation on the table is justified, but their strong fight and willing strikes make them a welcome visitor to Florida's Shores.
What do you think about the Bluefish?  Let us know on Twitter @FLShoreFishing or on Facebook at https://www.facebook.com/FLShoreFishing