By: Daniel Hagan - Managing Editor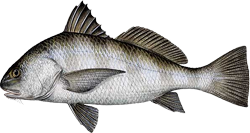 The Black Drum is one of the most popular inshore fish for food. They are rather good up to 24", after which the meat looses flavor and become coarse.

Black Drum are very similar in all aspects to their cousin, the Red Fish.

Species Name
Pogonias Cromis
Size
Black drum average around 2-5 pounds, 10-20 pound fish are not uncommon and the largest exceed 100 pounds.
Food Value
Excellent. Fish up to 24" are very good, bigger than that they start to loose flavor and texture.
Fight
Strong but not fast. Not many runs other than extremely large fish that get off runs purely
because of brut force.
Equipment
Black Drum can be caught on just about any rig. For fish intended for the table spinning or bait casting gear works well. For the larger fish heavy spinning and ocean gear is best.
Baits
Live Shrimp small crabs and cut blue crabs are the best baits. They are not often caught on lures but will be taken from time to time on a slowly worked jig.
Limits
Slot: 12"-24"
Bag Limit: 5

One over 24" allowed


Although we try to keep our database up to date, be sure to check with the FWC before harvesting any
regulated fish.