By: Daniel Hagan - Managing Editor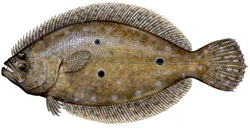 The "Flounder" is famous as one of the best tasting fish in the ocean, and in Florida there are 2 species (Southern and Gulf Flounder) that are nearly identical and both are frequently referred to simply as Flounder.
Species Name
Southern Flounder (Paralichthys lethostigma) | Gulf Flounder (Paralichthys albiguttata)
Size
Southern Flounder can reach over 20lbs, Gulf Flounder rarely reach 5lbs.
Food Value
Excellent.  One of the best tasting fish found in the ocean.
Fight
Flounder are not very strong and their fight does not lead to much suspense.
Equipment
A good flounder rig would comprise of a medium-light action rod, a spinning real rated for between 8-12lb line, 10lb braid with a 12lb leader of fluorocarbon.
Baits
Live finger mullet and mud minnows are the two most productive baits for flounder.  Live shrimp and other small bait fish also work well.
Limits
Minimum Size: 12″ (Both Species)
Bag Limit: 10 

Although we try to keep our database up to date, be sure to check with the FWC before harvesting any regulated fish.