By: Daniel Hagan - Managing Editor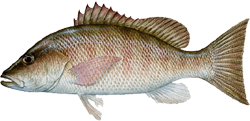 The Mangrove Snapper is one of the few snappers that can be caught from the shore in Florida.

The good news is that it is also one of the best tasting snappers and has size limits that allow a few to be kept inshore!

Species Name
Lutjanus griseus
Size
Average inshore Mangrove Snapper range from 10″-14″ rarely reaching 16″ before moving offshore.
Food Value
Mangrove Snapper are very popular for their flavor.  They are delicious from 10″ all the way up to 20lbs.
Fight
They are a very scrappy fish when young and very strong and smart when larger.  The hit can range from small pecks to very aggressive strikes.
Equipment
Just about any equipment used inshore will work just fine for Mangrove Snapper.  They have great eyesight so lighter leaders and smaller hooks will often times lead to more fish.
Baits
Mud Minnows are the absolute best when fishing for Mangrove Snapper.  They are also often caught on small finger mullet, live shrimp, fresh dead shrimp, cut bait and even fiddler crabs.
Limits
Min: 10″
Bag limit: 5

Although we try to keep our database up to date, be sure to check with the FWC before harvesting any regulated fish.