By: Daniel Hagan - Managing Editor
Redfish are one of the most popular fish to catch from Florida's Shores.  They are great fighters, readily strike artificial lures, are found through Florida and are quite tasty table fare.  The Redfish, a very close relative of the Black Drum, averages around 2-4 lbs but can max out over 50lbs.
Where to Find Redfish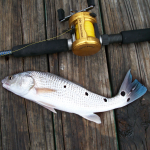 Redfish can be found through out Florida year round.  They are often found in shallow flats, in deep passes and even in the surf.
Equipment for Catching Redfish
Because of the wide range and great size differences in Redfish gear requirements can vary just a greatly as the areas the fish are found in.  When fishing on flats or open shorelines smaller rods and reels with lighter lines can be used.  Even the largest of Redfish can be caught on 12-15lb rated gear in open/shallow water with no obstructions.
In areas with a lot of obstructions, like bridges, piers and oyster bars heavier gear is required.  Redfish have a tendency to run to cover when hooked and can break lighter line on obstructions.  In conditions like this 20-30lb rated gear is called for.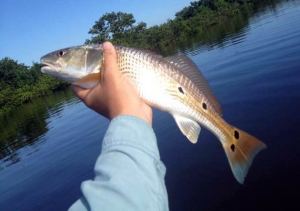 How to Catch Redfish
Redfish are willing strikers of artificial, live and cut baits.
Artificial Lures
Early in the morning and just before sunset it is hard to beat top water lures.  Walk-the-dog style stick baits are often the most successful.  After the sun is up top lures include those that mimic live shrimp or injured bait fish.  Gulp Alive Shrimp and jerk baits are tops among the soft plastic artificial lures while a gold spoon is the best bet for a hard bait.
Live and Cut baits
Redfish eat most types of live bait.  They are frequently found rummaging on crabs and shrimp as well as chasing mullet around the flats.  Using baits that mimic their forage will always lead to more fish.  Live jumbo shrimp, small blue crab, and live finger mullet are top baits.  Any fresh dead cut bait has a good chance of attracting Redfish as well.
Florida Redfish Regulations
18″-27″ Slot
1 fish per person per day
Accurate as of 10/19/2014