By: Daniel Hagan - Managing Editor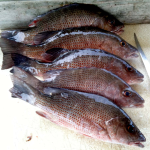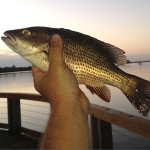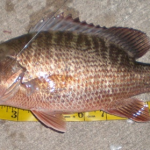 Mangrove Snapper Fishing
One of the most popular, and tasty fish that can be caught with out a boat is the Mangrove Snapper.  Inshore they average from 10-14 inches and weigh around a pound.  Offshore they can get up to 20 pounds, but a fish that large is very rare inshore.  This popular fish can be found everywhere from piers on the beach to inlets to inshore structuring making this hard fighting fish an easy target for most anglers.
Mangrove Snapper Equipment
Inshore Mangrove Snapper rarely get above 14″ so just about any inshore gear will work very well.  The most popular rod and reel combo when targeting Mangrove Snapper is a light spinning reel with a medium light action rod.  10lb braided line with a 12-14lb fluorocarbon leader will handle almost every snapper caught inshore.
Lures for Mangrove Snapper
While Snapper are not the most willing strikers of artificial lures there are many that will work.  Some of the most sucessful are:
Berkeley Gulp Shrimp (the most successful)
Curl Tail Grubs
Soft Plastic Shrimp
Soft Plastic Jerk Bait
Mud Minnow / Finger Mullet imitation lures
Tackle for Live Bait
All snapper have good eyesight and the Mangrove is no exception.  Because of their good eyesight smaller hooks and lighter leaders are often required.  The most successful tackle includes:
Small circle hook (#2-1/0)
12-14b fluorocarbon leader
Small barrel swivel
Glass bead
Egg Sinker (only heavy enough to reach desired depth)
Live Bait
Mangrove Snapper are voracious predators and willingly take many types of live bait.  The stand alone best live bait for inshore snapper is Mud Minnows.  They last very long in captivity, are very durable on the hook and are almost irresistible to Mangrove Snapper.  Other good baits include:
Live Shrimp
Small Finger Mullet
Green Backs (sardines)
Very small pinfish
Small Crabs
Mangrove Snapper Habitat
Inshore Mangrove Snapper tend to hang out close to structure.  They are very fond of mangrove shore lines, piers, docks and bridges.  Anywhere there is current and structure there is a chance to find them.  They tend to hang out in the shadows under structure to ambush prey.
A very successful place to find and catch Mangrove Snapper is around Jetties near inlets.  This area generally accounts for the largest inshore snapper caught and can frequently have large schools of fish using the rubble as cover.
Techniques
Live Bait
Cast the bait a few yards beyond structure that is believed to hold fish.  Allow the current to slowly move the bait close to the structure and remain just up current until it is taken by a fish.  Mangrove Snapper are both aggressive and subtle strikers.  On some days they will hit a bait so hard it immediately bends the rod, other times they barely touch the bait.  On days where they are hitting the bait softly, use a smaller hook and lighter weight to encourage the fish to take the bait into its mouth and also allow the angler more sensitivity to feel the gentle bight.
Many areas require circle hooks by law when fishing for reef fish (which all snapper are considered).  When using these hooks never set the hook in a classic sense.  When using a circle hook and a bite is detected simply reel in any slack until pressure is felt the raise the rod up ward with a slow steady motion and begin to reel in the fish.
Lures
Cast the lure up-current of the structure that is suspected of holding fish.  Work it past the structure multiple times.  If there is no hit after 4 or 5 attempts it is best to cast to the next piece of structure.  Fan cast all the structure until an area is exhausted and then move to a new area.  If a fish is caught, they tend to move in schools, work that same area to try to catch other fish in that school.
Tips and Tricks
Mud Minnows are THE BEST bait for Mangrove Snapper
Bridges and Piers that are near deep water often hold many fish
Mangrove Snapper hold through out the water column, not just the bottom
Inshore fish prefer warmer water and tend to move offshore when the water cools
Related Links