By: Daniel Hagan - Managing Editor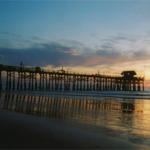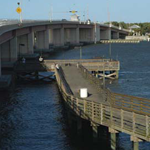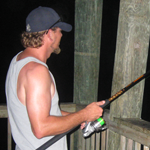 One of the most popular, and most productive places for shore-bound anglers to fish is from the many piers that line the coast.  These piers not only attract anglers, but they attract many game fish that the anglers are seeking.  Here are 5 quick tips to help catch bigger game fish from the piers and a quick explanation of each bellow:
Look for Promising Structure
Use the Best Baits Available
Upgrade Gear Size (to Handle Larger Fish Around Cover)
Avoid the Crowds
Be patient
1. Look for Promising Structure
Most game fish will relate to some type of structure.  They will often be found hiding behind pylons, in holes under the pier or between sandbars prowling the waters between breaking waves.  Look for areas that look like good ambush positions for the predators and concentrate your efforts there.  Remember, the deepest water is not always the best place to fish.
2. Use the Best Baits Available
Depending on what fish you are targeting there is almost always one bait that will work better than others.  For Redfish it is often Mud Minnows, for Snook it is croakers, for Flounder finger mullet will often work the best.  While live shrimp will catch every one of the above, it is not the best bait for them.  To target the larger game fish, choose the best bait that is available in the largest practical size.  Doing so will not only increase your chances for success, it will help prevent unwanted, or "trash" fish, from stealing your bait.
3. Upgrade Gear Size (to Handle Larger Fish Around Cover)
Far to many times I have been on a pier and watch an angler hook into a good sized game fish to only watch that fish circle around a pylon and cut the line, leaving the angler saddened and confused.  When fishing areas of heavy cover, like piers, it is important to use gear that can handle larger game fish in a quick amount of time.  I prefer to use a large Penn Baitcaster on a Medium Action Trolling Rod.  I spool this pole with 60lb braided line and a 30lb fluorocarbon leader.  This set up can handle almost any red or snook that will be found near piers with ease!
4. Avoid the Crowds
No matter how prepared you are to fight the big game fish, if you are fishing in an area that is over crowded with other anglers, there is a good chance your lines will get tangled when you hook into that bigger fish.  Many times the large groups of anglers will be concentrated at the end of the pier (they seem to think deeper is ALWAYS better, and we know this not to always be true) so they are easy avoid.  Other times they will gather anywhere they have seen an angler have success.  Try to find promising areas that are not crowded, and if the only promising areas are crowded, make sure that you are geared up for the larger fish and try hard to keep it from getting into your neighbors lines. Also, make nice with the other anglers, help them when they need it!  This will make them much more likely to pull in their lines and get our of your way when you hook into the big one!
5. Be Patient
One thing is for certain, if you are targeting the large game fish you will not be the person catching the most fish on the pier.  It takes patients to find and land the larger fish.  If you are one that gets bored easily, a tip I would offer is to carry a smaller rig that you can set up for whiting/pompano/black drum.  Use a double dropper rig with cut fresh shrimp on each hook and cast it between the breakers.  This set up should lead to frequent catches (most will not be very large) but it will help pass time while you wait for the larger fish to show up and take your bait on your main line.
Now get out on those piers and get to fishing!